A Washington Post analysis has found that as Trump's first term winds to a close, he has weakened or wiped out more than 125 rules and policies aimed at protecting the nation's air, water and land, with 40 more rollbacks underway.
While it's impossible to tear yourself away from what Trump says - look no farther than his hour-long use Monday of the White House to launch an illegal, partisan rant against Joe Biden - it's more important to absorb what Trump does.
Including his constant attacks on the environment for the benefit of donors and polluters who make money by degrading the people's land, clean air, fresh water and personal and community health.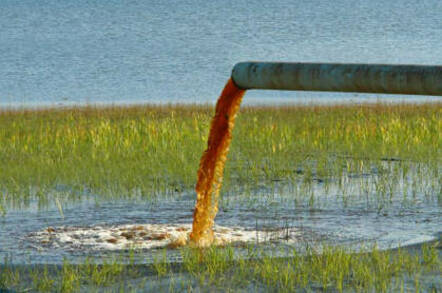 The New York Times has compiled a must-read-and-save list of the 100 Feeral environmental laws, rules or policies on the books which Trump has upended, watered-down or killed.
All told, the Trump administration's environmental rollbacks could significantly increase greenhouse gas emissions and lead to thousands of extra deaths from poor air quality each year, according to energy and legal analysts.
Such as his extremely consequential shattering of protections and procedures in the long-standing National Environmental Protection Act, (NEPA).
The key law has for decades since Richard Nixon signed it provided protections for people, communities and public resources which are inflicted by highway expansions, wetland draining, mining and pipelines operations, and is a major lever against climate change.
Importantly, NEPA guarantees a role for public participation and citizen comments which can change plans and guarantee that tax money raised from all the people is not spent in a harmful, reckless or discriminatory, favor-laden way.
I expect there will be litigation to stop what Trump wants to do. His defeat in November should put a stop to his NEPA wrecking ball and full-scale war on the environment.
It's not a coincidence that Trump cares nothing for what is spewed into the air and enables the spread of the invisible and deadly COVID-19 virus by undermining the simple wearing of masks.
Polluted air, infected air do not register as priorities for our most privileged, insulated, self-absorbed - yet most important - public official.
And his contempt for the environment with corporate favors added on top was presaged in Wisconsin by the special legal and environmental exemptions Walker and the GOP-dominated legislature granted to Foxconn, with wetland filling, productive and accelerated road-building and lost climate change mitigation being a few of Foxconn's early impacts.
In fact, Walker modeled the very pro-polluter agendas being rushed through by the President whose Wisconsin re-election Walker chairs.
Were Trump re-elected, and the US Supreme Court eventually gave his move a green light, I could imagine a local impact in Milwaukee; a perhaps faster-tracked expansion of I-94 past Story Hill between the Marquette and Zoo Interchanges which Gov. Evers suddenly set back into motion.
Opponents of the project which was even too costly and cumbersome for ex-Gov. Walker to ram through are again raising all the right objections in what will be an exhausting drain on scarce funding and organizing energy to save even a modicum of environmental protection and justice.
3 p.m. update: I'm pleased to add this statement from the Environmental Law & Policy Center, headquartered in Chicago:
NEPA Rollback Rejects Climate Reality, Endangers Public Health
President Donald Trump announced final National Environmental Policy Act revisions in Atlanta press conference on Wednesday
STATEMENT BY HOWARD A. LEARNER
EXECUTIVE DIRECTOR, ENVIRONMENTAL LAW & POLICY CENTER
"President Trump is weakening and undermining NEPA, which is America's cornerstone environmental law, instead of celebrating NEPA's effectiveness on its 50th Anniversary," said Howard Learner, Executive Director of the Environmental Law & Policy Center. "NEPA requires governmental agencies to fully and fairly consider better, smarter and healthier alternatives to big development projects and fully address their environmental impacts.
"The Trump Administration's new rule rejects the realities of climate change, and it endangers safe, clean water and healthy, clean air for people and our communities. This shortsighted action of restricting public participation and valuable environmental reviews will result in more troublesome projects going forward with unnecessary harms to people, public health, our communities and environment."