It would be understandable if you've been focused on Trump's threats to our Ukrainian Ambassador whom he demeaned and fired, the Congressman leading the post-impeachment prosecution and the evaporating sanctity of the Constitution to have absorbed his threat to clean water and vital wetlands:
The Trump administration on Thursday signed its long-promised regulation to remove millions of miles of streams and roughly half the country's wetlands from federal protection, the largest rollback of the Clean Water Act since the modern law was passed in 1972.
The move delivers a major win for the agriculture, homebuilding, mining, and oil and gas industries, which have for decades sought to shrink the scope of the water law that requires them to obtain permits to discharge pollution into waterways or fill in wetlands, and imposes fines for oil spills into protected waterways.
One of the fictions being promoted by Team Trump is that the environmental impact of the change will be inconsequential because states have their own, separate wetland protection laws.
But some states limit protection to whatever is the federal standard, and in Wisconsin, the environmental vandals whom Trump is modeling with the help of a raft of Walker environmental degraders
had already removed some of the barriers
protecting state-designated wetlands:
WI GOP legislator touts massive wetland destruction 'reform'
And who might that legislator be?
"This bill is a modest change," [Tom] Tiffany said.
Three things to keep in mind.
1. Beware Republicans hiding their intentionally-disruptive agendas inside that word "modest." Remember that's what Walker called his little ole "modest" Act 10.
"...these are modest, modest requests," Walker asserted, of proposals that would completely strip public employees of their right to collectively bargain for anything except salaries (and to severely limit their ability to do even this), along with sweeping new rules that will make it difficult for their unions to survive.
2. "Modest" is also how the Wisconsin Manufacturers and Commerce framed what it hoped [unsuccessfuly, so far] would be the statewide reach of weakened wetland protections it successfully argued for inclusion in the Favors for Foxconn bill.
WMC's Scott Manley said he hopes the Foxconn exemptions will eventually be applied to all businesses in Wisconsin because current state regulations are unnecessary and burdensome....
Manley called the Foxconn exemptions "modest" because they don't eliminate federal scrutiny.
* And does this sound modest, or rational to you?
Originally, Republicans had pulled the figure of a million de-regulated state wetlands acres out of their Make Wisconsin Weaker Again hat, so you can see just how arbitrary and science-free is their enabling of the very flooding which realists know - - and which I've been tracking - - is becoming more frequent, intense and dangerous:
Wisconsin landscape flooded with water, dismissal of science, too.
The rains in SE Wisconsin did stop and the flooding from Dane County to Ixonia to Watertown to I-43 in Milwaukee County is receding, but water levels will continue to rise and more rain is in the forecast.

So I wonder: is there a bigger picture to this?, since parts of Wisconsin - - Watertown, 2016, Racine County, 2017, Racine County, 2008, Madison, 2018, historic flooding in NW Wisconsin in 2018 and 2016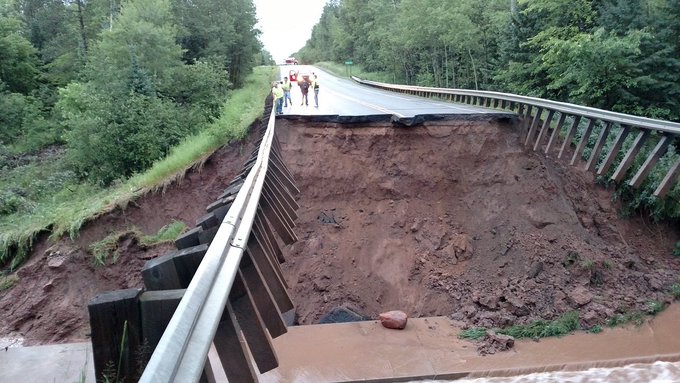 etc. - - have been hit by rains routinely labeled heavy, historic, worst ever., and so on.

And, yes, it's summer and we get storms, but you're also reading about record-breaking heat and climate change near and far, so you ask, what can the Wisconsin experts tell us?
A lot, as they had said on the
Wisconsin DNR's Great Lakes and Climate Change page
before Walker's corporate-friendly DNR managers deleted the language:
Climate Change and Wisconsin´s Great Lakes
Earth's climate is changing. Human activities that increase heat–trapping ("green house") gases are the main cause. Earth´s average temperature has increased 1.4 °F since 1850 and the eight warmest years on record have occurred since 1998.
Increasing temperatures have led to changes in rainfall patterns and snow and ice cover. These changes could have severe effects on the Great Lakes and the plants, wildlife and people who depend on them.
While no one can predict exactly what climate change will mean for our Great Lakes, scientists agree that the following changes are likely if climate change patterns continue.
Increased summer and winter temperatures will cause increased evaporation, lower lake water levels and warmer water, resulting in reduced habitat for cold water species and a loss of critical wetland areas.

Decreased winter ice cover will also contribute to increased evaporation and lower lake water levels which could have severe economic consequences for our valuable shipping industry, lakeshore recreation, and coastal businesses.

Changes in rain and snowfall patterns (including more frequent and severe storms) could change water flow in streams and rivers and increase stream bank erosion and runoff pollution.