For his detractors, Scott Walker's failed seventy-one day 2015-toe-dip into presidential waters is the gift that keeps on giving.
For Walker, it has to be a looping nightmare.
It was bad enough that to launch it, Walker had to throw home-state voters and interests under the bus by
killing the Kenosha casino project
and
waffling all over the place on ethanol fuel
to please certain Iowa businesses and opinion-makers.
Then when polls cratered that once had him
leading
, W
alker

was forced to
drop out, broke and disorganized
,
before any Iowan for whom he'd
stumped, motorcycled and pandered got the chance to give Walker a single caucus vote.
This debacle was followed by his having to spend months calling for dollars, selling mailing lists and autographing remainders of his unfortunately-titled campaign bio "Unintimidated" to payoff a $1.2 million dollar debt run up in what for a presidential campaign is a nano-second.
Further followed with an apology tour across Wisconsin aimed at voters whom he had misled about being dedicated to serving out a full second term with a series of humiliating, 'hey, remember-me' listening sessions made even less credible and more pathetic credible because the meetings were by invitation only.
By the way, the Walker book can be had today for as little as ten cents, used, on Amazon - - where it is also ranked #712,566 on its best-seller list.
And speaking of the book, it probably didn't serve Walker well that one its more incendiary claims about his being endangered while not unintimidated in La Crosse by protesters was ruled "false" by Politifact.
Anyway, here we all are nearly three years out from his goofy presidential bid and it turns out that Walker appears to be the only 2015-16 presidential candidate gullible enough to get himself photographed with a-now-indicted alleged Russian spy and have the meeting demoralized through photos posted on a supporting PAC's website.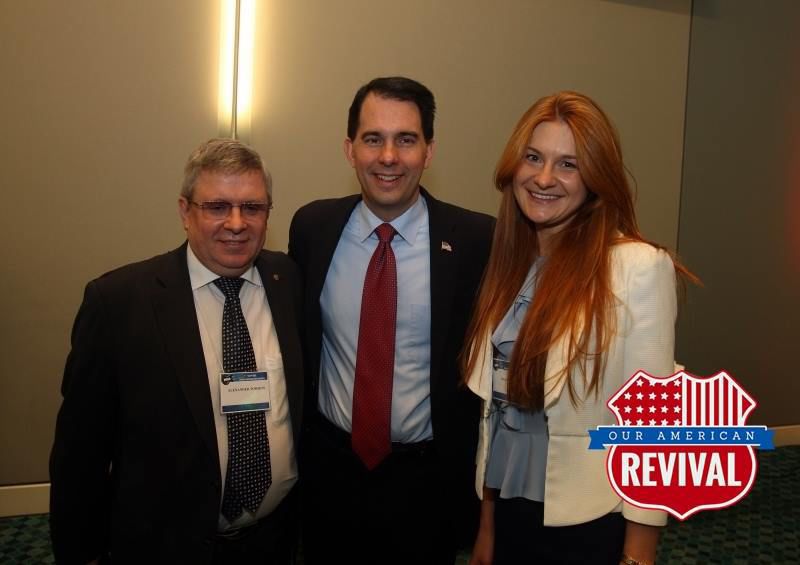 Hawking something so patently absurd as gun rights in Russia. C'mon. Seriously? Did she ask him to come outside and see the unicorn she rode in on?
We're now at the point that Walker can't jet off to the White House where's he scheduled for an Foxconn attaboy from President Trump without the largest paper in the state adding, among other Russia-related information:
And Walker has had to explain how he came to have his photo taken in 2015 with a woman now accused of being a Russian agent. (Walker has said he

talked to the woman briefly

when she and another Russian approached him in 2015 at a National Rifle Association convention to get their photo with him, just as many of his supporters have.)
And that was not the first time that Walker was proven dupe-able; there was the time he was pranked into spilling guts over the phone to a prankster he thought was mega-GOP-financier David Koch.
I always thought Walker would sweep that under the rug by claiming his office cut-ups were playing a game of "Pepsi, or Coke?," and just as the Koch call came through on line one he thought he heard someone shout out, "Coke, number one, brother!"
Walker isn't above offering a creative, or duplicitous explanation after getting caught with his political pants either falling down or on fire.
Like his intentional rewrite of the "Wisconsin Idea" he tried to as a budget "editing error" by others when it was intentional as a central ideological and financial element in his campaign to muddy-up Madison, diminish the UW system and upend its traditional and iconic public service mission.
Now I'm not saying images of paling around with an alleged Russian spy are enough to send Walker packing in November - - more photos, here - - but here's one that could.