Several counties in Northwestern Wisconsin and along the Mississippi River were inundated by destructive flooding this summer.
But months later we learn through a column by State Senator Kathleen Vinehout, (D-Alma), that road and bridge repair and replacement continue to inconvenience residents and businesses in hard-hit Buffalo County because the state will not or cannot even loan local officials funding to install a temporary bridge crucial to the road grid.
Wild water took out several bridges including the Schoepps (pronounced "Sheps") Valley Bridge, which connects a major road — State Highway 88 — to about 20 homes and farms.
Recovery from the floods is slow and wearisome. Some residents just recently were able to apply for assistance. Town officials borrowed money to fix roads and bridges, and the county may need to borrow for cleanup of a debris-filled creek that still threatens homes.
But for residents in Schoepps Valley, the bridge is still out.
Town officials cannot yet get funding from the state Department of Transportation to pay for a temporary bridge. Getting a new larger permanent bridge will take some time. Meanwhile, people are worried about getting to work. Some fear being stranded and sometimes stay with relatives in Winona, Minnesota.
Walker won the 2014 vote in Buffalo County against Democratic opponent Mary Burke 57.6-41.2%, data show.
Yet after a political landslide, the winner and incumbent Governor and his Department of Transportation will not help his supporters recover from a physical landslide.
Maybe focusing state funding in these inundated areas would draw attention to the changing climate with its heavier precipitation events which Walker and his party officially deny, and where they may locate in one of the heavily flooded areas a 26,000 hog-feeding and manure producing operation that could, if flooded, wash its toxins into Lake Superior's waters.
Meanwhile - - billions in borrowings and funding drained from general state budgeting, other road projects and transit options statewide for the $6.4 billion Southeast freeway system boondoggle - - the main reason for a $1 billion transportation fund deficit and either higher fees or taxes, perhaps even first-ever state toll collections in Walker's next budget.
Hooray for the small government fiscal conservatives!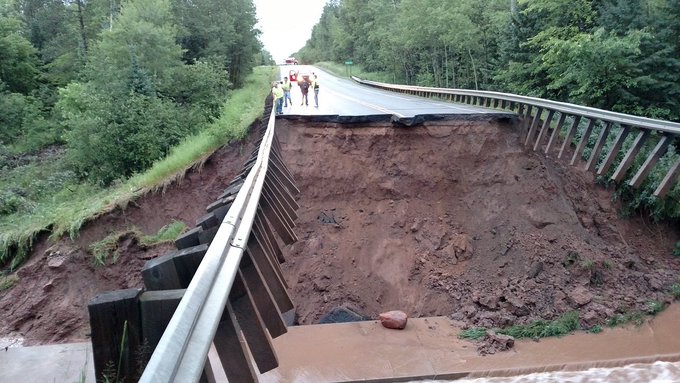 Earlier flooding in nearby Ashland County washed out this bridge. The flooding which hit Buffalo and other counties several weeks later was the second massive rain storm to hit Wisconsin this summer.