The flooding that ravaged Dane County - - home to the State Capitol, our largest public university, and a powerful urban and rural economy - - cannot be dismissed as a fluke in isolation.
What took place several days ago, and which is still unfolding as waters rise and more thunderstorms are in the forecast almost daily through next Sunday, is Wisconsin's wake-up call about a changing climate producing weather extremes that demands the state's full, energetic and committed attention.
No more denial. No more refusal to connect the dots while doing business as usual, as I noted just last month.
How long do we have to wait for TV news anchors and weather forecasters to incorporate basic, consensus science about climate change into their correspondents coverage of increasingly devastating fires and floods in

a demonstrably warmed and warming climate?
While many state officials and governors, like Scott Walker, have nothing to say about it, or worse, as documented repeatedly on this blog,

here

,

here

, or

here

, and elsewhere.
Because if you've taken the Koch brothers anti-climate change pledge, that's what you do. Nothing.
TUESDAY, JULY 2, 2013
Walker Pledges Fealty to King Koch, Coal
Let's remember that the storm killed a man, James Sewell, who, by all accounts was a wonderful citizen, and let's remember that others witnessed his being swept away.
...a Madison man in his 70s, was ripped from the hands of a bystander by a strong current in the floodwaters.
Read what the Wisconsin Historical Society, Sewell's long-time employer, had to say about him in a social media posting Thursday:
This week we learned that Jim Sewell, a dear friend and colleague, drowned as he attempted to escape from an inundated vehicle during the historic rain event in Madison.
Jim worked at the Society from 1976 until 2010. He was the first historic preservation architect in the office and was instrumental in the establishment of processes, rules, guidelines, and instructional materials that are the backbone of our work today.
He worked on hundreds of historic preservation projects throughout Wisconsin and provided technical assistance to owners of historic buildings to ensure compliance with the Secretary of the Interior's Standards; administered several programs of tax credits for rehabilitation of historic buildings; reviewed projects under state and federal compliance laws; administered a program of federal grants-in-aid to owners of National Register properties; oversaw the certification of properties under the Wisconsin historic building code; and provided scores of public presentations. We also continued to work with Jim during his retirement.
Jim was a respected leader in the preservation community and known throughout Wisconsin in his 34 years of public service with the Society. We will miss him dearly.
Damaged basements can be repaired and broken roads replaced. James Sewell cannot.
Nor can we forget that people also died in heavy storm flooding in NW Wisconsin in 2016, and 2018, and that alarm bell was not heard widely enough:
...the flooding in Bayfield County seems worse than the deluge that occurred two years ago because the damage to roads is more widespread.
The same goes for this report about the same 2018 flood:
Reports of 15 inches of rain from Drummond in Bayfield County may go on the record as a 1,000-year rainfall...

The damage in Douglas County appears to be greater than what was witnessed during the floods of 2012 and 2016.
Those should have been wake-up calls, too, regardless of their sounding in smaller media markets.
The obvious signs were also ignored statewide in Racine's County's back-to-back floods in 2017 and this year. (And no wonder downstream Illinois is worried that Wisconsin's rush to plow and pave 3,000 acres for Foxconn, and waive wetland-and-lake-filling and stream-rerouting prohibitions might end up sending the next major rainstorm pouring across the border.)
Ditto for Western Wisconsin's back-to-back floods 2017 and 2018.
Plus, Madison had flooding just a few weeks ago.
So north, south, east and west, the storms are frequent, intense, destructive, even deadly. We can't say we aren't seeing it now.
I've tried to stay on top of this week's Dane County flood story,
expand
and
advance it
.
But now we need action,
immediate pressure, relentless pushing directed at elected officials and candidates in both parties to use their power and influence to get Wisconsin back in the business of science-based public planning, not state-sponsored wetland-filling and deletion of information and expertise.
Lives, the state's economy, and our collective well-being are at stake.
In March, 2017, I posted this suggestion, along with more than a dozen specific ideas and links to organizational, scientific and related resources and websites to do what Walker and the state were actively resisting:
You probably heard that right-wing WI Gov. and pollution-enabler Scott Walker's "chamber of commerce mentality" management

at the intentionally-diminished

Wisconsin Department of Natural Resources

scrubbed climate science information

from the agency's main web page about the causes of climate change and its effects on the Great Lakes.
And I got to thinking that just because Walker and his hand-picked agency Secretary and mission-killer Cathy Stepp withhold critical data and useful links to information from the people shouldn't mean that we can't create resources that might even improve on those which our state-paid censors have deleted.
So here's a first draft of

A Wisconsin Citizen's Guide to Climate Change
All we'd have to do is take a look at how Minnesota, with which we share an upper Midwestern/Great Lakes climate, is handling matters, as I've summarized in 2016 and 2017 and run with it.
Actually, there is plenty of homegrown talent at the ready.
For example, there is an impressive collaborative centered in the UW - - The Wisconsin Initiative in on Climate Change Impacts - - that is loaded with materials and talent; just because Walker's 'chamber of commerce mentality' mangers deleted a link to it from the DNR's now infamously scrubbed website doesn't mean you can't find it on Google and tap it:
The Mission of the Wisconsin Initiative on Climate Change Impacts is to generate and share information that can limit vulnerability to climate change in Wisconsin and the Upper Midwest.
Madison is home to many such experts, writers and groups which could turn out a resource and a blueprint in a matter of days.
It could be posted, circulated it, put it in front of every office holder and candidate in the state who would be pressured to endorse and implement it.
We don't need any more Wisconsin residents washed to their deaths.
No more homes and businesses and farms and roads and budgets damaged or destroyed while officials sit idly by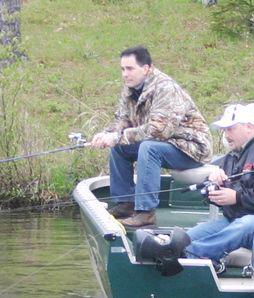 ignore reality and the facts, and 'govern' in crisis times by looking through the most insultingly superficial and self-serving of frames - - like suspending sales taxes on school supplies before the 2018 primary election, or enjoying free plane rides around Wisconsin while 'unofficially' campaigning, or staying busy posting Twitter pictures shilling for friendly franchises and 'everyman-or-woman-votes which show half-eaten cups of frozen custard or burgers.
It's good that Madison Mayor Paul Soglin and Dane County Executive Joe Parisi had been taking at the local level available steps to manage water and acknowledge a changing climate, as I'd noted here and here, earlier.
But politicians who won't get serious about life-and-death science and policy-making in Wisconsin need to be moved out and replaced with authentic leaders who will respond to a wakeup call that is sounding louder, and more frequently.