[Reposted from2/25/18] Wisconsin policy-makers should replace Walker's state border "Open for Business" signs
with new ones that say "No Permit Needed."
Why not: it's the way Walker and GOP legislators are dealing with Wisconsin water quality and wetlands these days:
* For example, about 33% of the state's large dairy cattle feeding and manure producing businesses were operating as late as last May with expired permits.
Some argue that a dairy operation's expired permit is still in force, while others note the resulting limitations and consequences; both arguments and the data, here.
A related number - - the DNR didn't follow its own pollution enforcement rules 94% of the time, and:
Auditors also examined how quickly the DNR renewed five-year pollution permits, legal documents that establish limits for waste water discharges, and found the agency usually missed its goal of renewing 85 to 90 percent of permits before they expire
So the message is that, yes, there are permits, but making them effective in the public interest and and worth more than the paper they're printed on isn't exactly the major priority in Walker's oft-polluted, "chamber of commerce mentality"-driven state.
* Better yet, consider surprise permit-related legislating by GOP State Rep. Ron Tusler, (Town of Harrison), a freshman GOP Assemblyman from Calumet County.
His late-night amendment on behalf of a big sand mine across the state in Monroe County could throw a monkey-wrench into the mine's pending wetland-filling permit process that moves to a hearing Monday.
A note in the drafting documents for the amendment states, "Permit was issued, no discharge yet (because) stayed for contested case hearing. Bypass this by saying no permit required."
Bypass this...no permit required.
[Update - - citizen objections and a court filing led to the project's cancellation]
I'd predicted even before Walker was sworn in that his environmental motto for Wisconsin through the DNR he intended to corporatize would be "
Cut it, pave it, gut it, fill 'er in."
Walker then began his first term with Executive Order Number One. It called for a special session to legislate, among things:
exemptions from water quality certification and wetland mitigation requirements for certain nonfederal wetlands that are less than two acres in size.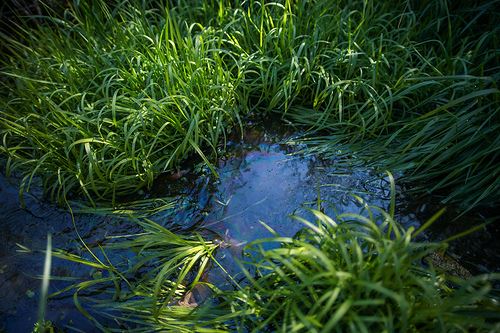 And his allies have been at it since, as I have noted often, including this 2014 summary:
Walker

had a bill introduced [right after his swearing-in] to suspend a DNR wetlands' filling permit review in progress so that

one of his donors could immediately fill a wetland

for a development near Lambeau Field.
The bill passed, but the development's intended tenant - -

Bass Pro Shops - - pulled ou

t because wetland filling was incompatible with a fishing equipment retailer's business and image.
[Update - - Eventually Cabela's occupied the development, then Bass Pro Shops bought out Cabela's.]
But the signal had been sent and legislators working on Walker's behalf - - along with business special interests - - adopted a bill easing permitting procedures along the lines sought by builders.
Which

they bragged about helping to write with Matt Moroney, a former builders' official, whom Walker had appointed Deputy Secretary of the Department of Natural Resources. [Update - -

Moroney later joined Walker's executive staff,, then because the state's point person for the Foxconn project.]
And to drive home the point,

Walker signed the bill in front of a cheering crowd of real estate agents.
Fast-forward to late 2017, when the Legislature approved Walker's giant corporate welfare package for Foxconn - - a complete Foxconn archive is here - - including exemptions allowing the company on its approximately 3,000-acre rural Racine County site to fill wetlands, build on lakebeds and re-route streams - - no permit required:
The bill exempts Foxconn

from four types of permits that are otherwise required for filling wetlands, straightening streams, and disturbing other waterways. It also eliminates Foxconn's responsibility to create an environmental impact statement that would allow the public to review all the possible harm that could be done to air, water and soil.
Exemptions the state's leading business group wants expanded:
WMC's Scott Manley said he hopes the Foxconn exemptions will eventually be applied to all businesses in Wisconsin because current state regulations are unnecessary and burdensome.
So, presto, the company already has targeted wetlands on its site, a
nd, presto, again,
the Legislature has since opened about 100,000 acres of protected state wetlands to Foxconn-style, no-permit-needed development
.
The bill, authored by Assembly Majority Leader Jim Steineke, R-Kaukauna, and Senate President Roger Roth, R-Appleton, allows builders to fill, without a permit, certain wetlands currently protected by state law.
How long will it take for metal-mining companies
recently allowed to operate in Wisconsin
with their open-pit digging and acid-assisting milling
to go back to the Legislature for Foxconn-style environmental and permit exemptions?
People say that mining regulation will always be relatively tough, but people also said metal mining wasn't coming back to Wisconsin, too.