I can guarantee you that Scott Walker has long had this Sunday circled on his calendar.
Because the Green Bay Packers will finally take the field and Walker can show you on green-and-gold bedecked social media pages that he's again morphed into sporty Governor Everyman.
Ditto for inhabiting the characters of Governor Bucky Badger and Governor Bernie Brewer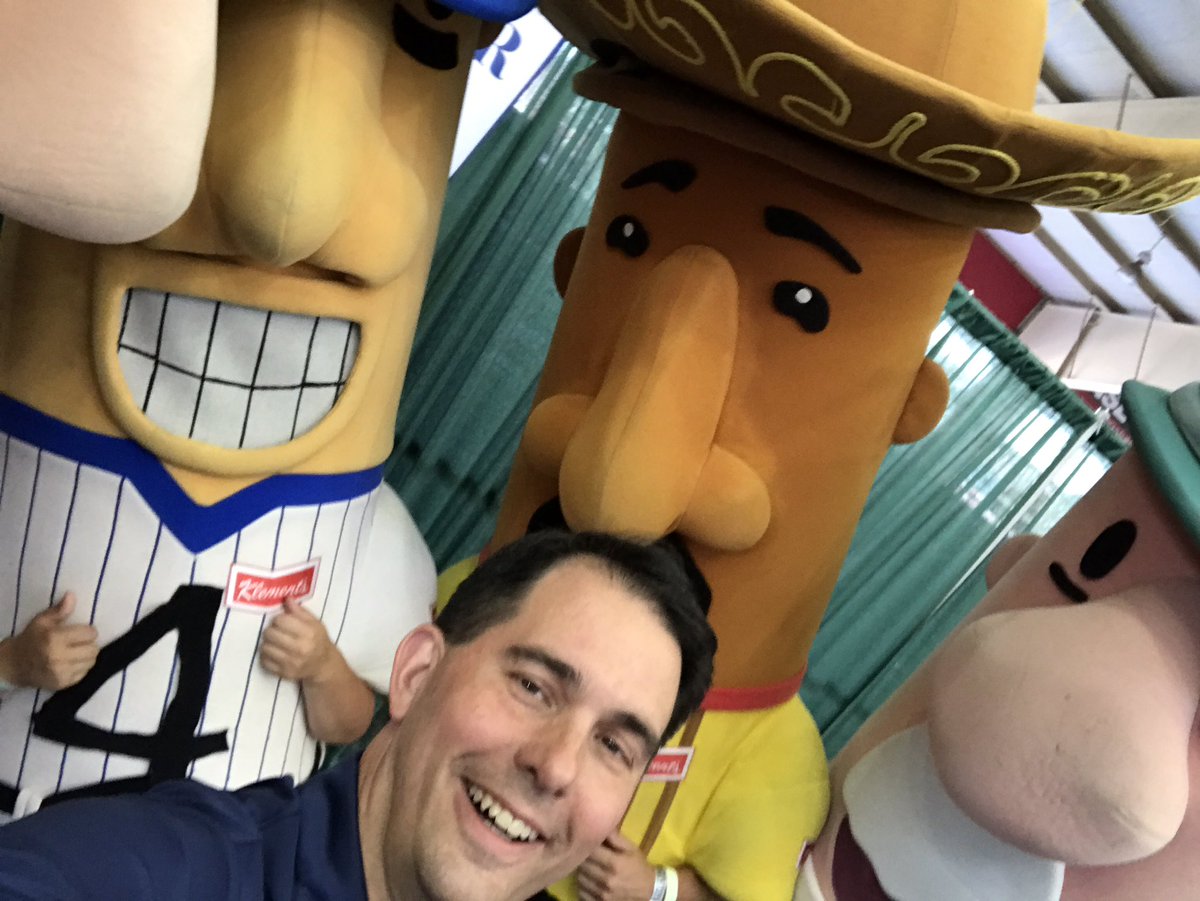 or Governor Harley Rider and Governor Blaze Orange or Fake Fishing Guy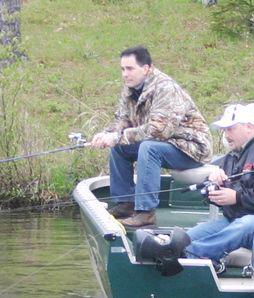 as needed - - and needed they are because things are not going well for Governor Candidate and distraction is the name of his most important game.
Witness:
* His poll numbers are consistently weak- - surely a bad sign for an incumbent, and worse for one awash in cash.
* Yet, or perhaps inevitably, his campaign's TV advertising has turned into a Governor Creepy production; tell me you have ever read a more devastating top on any story
posted by a state's largest newspaper
about a sitting governor's campaign:
Three months ago, Gov. Scott Walker called his opponent "pathetic" for using the word "goddamn" in a speech to supporters.
But now, the Republican incumbent is airing an ad that flashes the partially blurred words "blow job" and focuses on a young girl's breasts. Another ad paid for by the state Republican Party in support of Walker depicts a male teacher unbuckling his belt to suggest his pants were about to come off.
* And these lede paragraphs posted by the Journal Sentinel but a day later were another body blow:
Gov. Scott Walker had a second brief interaction with a woman now accused of being a Russian spy on the day he launched his unsuccessful presidential bid in 2015, according to a new court filing.
The GOP governor acknowledged in July that he briefly spoke with accused foreign agent Maria Butina and had his photo taken with her and a Russian official at a National Rifle Association convention in April 2015.
But

the new filing

says the two had a second encounter three months later, when

he announced his presidential run

in Waukesha.
* And Walker's campaign is further FUBAR by a growing chorus of significant and credible opponents not named Tony Evers, namely several of his own former top officials and cabinet secretaries.
The latest being civil engineer, former legislator and long-time WisDOT Secretary Mark Gottleib, who is accusing Walker of being untruthful about Wisconsin's plainly substandard transportation systems.
And Gottleib did it openly - - no anonymous letter to the editor for this guy:
In an interview and a lengthy written statement, Gottlieb reacted strongly to Walker's suggestion last week that the state could save money by

declining to add lanes

when it rebuilds roads.
Gottleib's broadside comes amid widespread awareness of the state's pothole "Scotthole" epidemic snarkily but effectively memorialized by ads and billboards - -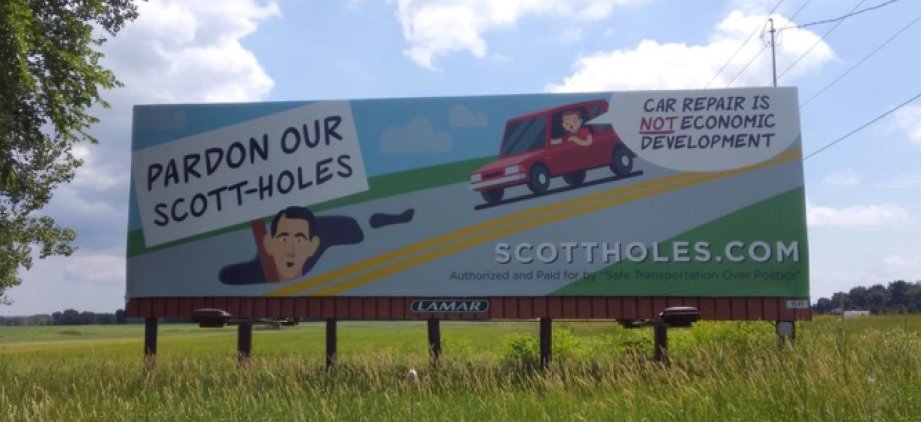 Now a full-blown metaphor
- - to which you can add growing outrage over the disappearance of $46 million in local road project funds which municipalities regularly control and rely upon.
* Whodunit?
Everyone knows a) Walker is in charge of the state, budgeting, and WisDOT, and b) already shifted tens of millions of scarce state transportation dollars into his beloved Foxconn, all-or-nothing political-gamble-with-other-people's money.
So imagine the outcry if cities like Green Bay and Appleton, for example, discover that Walker, or some bureaucrat who works for him and is more compliant than the aforementioned Gottleib, tried to quietly move their anticipated shares of these crucial funds to fill a hole in the already-bloated Foxconn-related road budget.
And I have to mention that Foxconn and Mount Pleasant just managed to flush tons of muck into the Pike River off the very land that Walker and his business allies specifically-exempted from a routine environmental inspection and inventory so bulldozing and road-building could get underway to mesh with Walker's time-sensitive campaign calendars, photo ops and ads.
* Walker was caught similarly flat-footed by more ill-timed events when the state suffered repeated, record-breaking and damaging, fatal flooding on his 'watch.'
But Governor Indifferent could not point to having any pre-emptory flood-prevention infrastructure work or flood planning
in place despite early flooding events statewide.
How could he, since he's been the Wetland-Killing Governor, busy since his very first day in office issuing proclamations and then signing bill after bill to remove protections from flood-absorbing wetlands for special interests, even donors.
Nor could he refer to any appreciation for climate change science which his own DNR had said - - prior to its Walker-obeisant ideological scrub - - would bring heavier rain events.
All he could do during a lull in the flooding was schedule an obligatory sand-bag photo op - - which Governor Cranky botched by trying unsuccessfully to bait a onlooker into a negative "F-bomb" so it could be filmed by Walker operatives on hand.
Nicely reported by Isthmus.
And the whole stunt was sand-bagged by another onlooker holding up a climate-change reminder sign that spoke truth to power, and a troubled candidate's stuck-in-the-mud bid for a third term.
Man on an island. Judith Davidoff photo also credited here.