In Wisconsin, Republican fiscal conservatives can't stop with the over-promising, big spending, continuing public credit card abuse and scheming for new taxes to complete road-building dreams shared by their favorite concrete contractors.
First there was the spectacle of Wisconsin GOP Assembly Speaker Robin Vos kvetching about what were completely predictable delays completing the rebuilding and widening of I-94 north-south through his district with about a net 70 miles of new lanes at a total cost of close to two billion dollars the state currently cannot fund.
Now comes Wisconsin GOP Senator, key budget-writer and fallen-away penny-pincher Alberta Darling, not to be outdone by Vos' lower-chamber hand-wringing...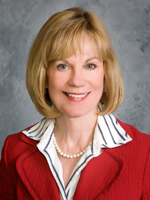 ...warning that yet another massive piece of the so-called SE Wisconsin free[sic] way reconstruction plan - - the piece planned on Milwaukee's West side for Story Hill past Miller Park and that is far from Darling's River Hills residence to the northeast - - could dry up and blow away unless many hundreds of millions of highway dollars to be picked from our pockets are committed right away.
That specific bit of Rube Goldberg road-construction contortion features new lanes in both directions squeezed between cemeteries and on top of residents' long-standing objections over induced, polluting congestion at a cost of more than $200+ million a mile that will not relieve traffic flow in a narrow bottleneck which can be barely widened.
Of course, no projected transit extensions will arrive there, as per usual for the state, in an area where light rail was already killed by GOP ideologues and their talk radio propagandists, and ditto for a fully-federally-constructed Amtrak line through the zone which Walker derailed that could have picked up some Madison-W. Waukesha-Milwaukee-and-return commuting, business, and tourism traffic, etc.
But which will eat up about 15% of the $6.4 billion public financing spending binge (in 2002 dollars!) that alleged fiscal conservative Scott Walker has pushed blindly since 2003, regardless of his personal and GOP no-Amtrak and road-building excess chickens now flocking home to roost.
And for which the state never properly had the funding in hand, or in sight, yet launched the bulldozers first in the overbuilt Marquette Interchange for $800 million, but which are now stalled across Vos' afore-mentioned district, and which are projected to slow in the excessively-costly Zoo Interchange do-over, and yet which are still supposed to get out of their axle-deep red ink and move fully across Milwaukee as Darling demands, and across I-94 in both directions and on new lanes across all of Waukesha County, and on I-43 north and south through Ozaukee County to the Sheboygan County line - - new lanes, both directions - - and on I-43 southwest with new lanes in both directions across all of Waukesha and Walworth Counties to the Illinois border, too.
Not to mention the need to finance - - or, perhaps not - - other major highway work across the state, and to replace antiquated, even unsafe bridges, and to help repair local roads with potholes as big as foxholes, returning to gravel...
And to send millions pennies, or lumps of coal, to transit systems which provide rides by the millions annually to seniors, students, those without cars, those who choose not to drive, and others who would only add more traffic to the highways if transit were to be further defunded as a competing 'social service' fighting with health care and education for general purpose state revenue in an era of shrinking tax collections as Vos suggested a while back.
So there is Darling worrying aloud that the I-94 boondoggle near Miller Park might die through governmental inaction, and, of course, a road-builder spokesman with a rather big dog in the hunt joined and validated Darling's Fretfest:
Pat Goss, executive director of the Wisconsin Transportation Builders Association, said he has the same worry.
"I think the senator has a very legitimate concern and anyone who supports this project should share that concern," Goss said.