Several Wisconsin Republican politicians, including Gov. Scott Walker, House of Representatives Speaker Paul Ryan, Northwoods GOP congressman Sean Duffy and a few others set to address their party convention next week in Cleveland will surely bash Big Government, the federal government in general, President Barack Obama, federal taxes that raise basic public service revenues, and various US policies that require and set standards for things we all need - - like clean water, stable bridges, safe roads and other programs.
I hope national commentators point out that Governor Walker, State of Wisconsin agencies run by his appointees and several WI GOP Congressional members - - including big-time big-government and reflexive Barack Obama hater Ron Johnson - - are right now also petitioning President Obama and federal agencies he controls for boatloads of emergency federal funding to help repair flood-damaged roads, bridges, water systems and other public properties in the Northwoods.
Additional federal aid to assist private home and business owners will make its way into the state, too.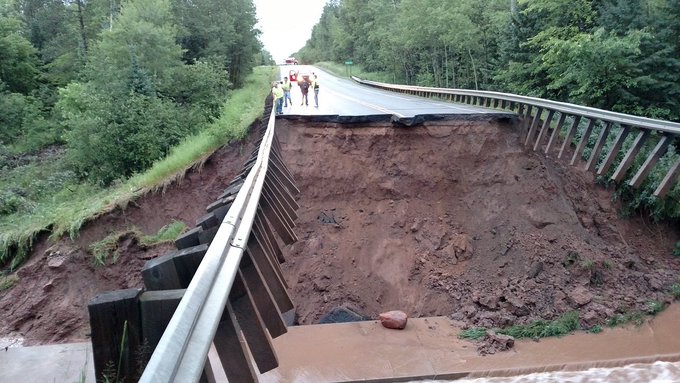 Wouldn't it be nice if Wisconsin's Obama/federal government bashers toned down the rhetoric for a while, if only to avoid charges of hypocrisy while federal dollars are being rightfully sought, then spent?