That tired old GOP treatment of Milwaukeeans as second-class citizens just took a toxic turn:
While Wisconsin GOP legislative leaders know that Milwaukee's residential lead drinking water piping is a serious health hazard, they just can't see allocating real state money to help out with the basics of life expectancies and brain damage prevention because, you know, fairness and local control and other two-faced, bumper-sticker distortions, contortions, faux
pieties and hypocrisies:
Republican legislative leaders are raising concerns about a plan in Democratic Gov. Tony Evers budget that calls for borrowing $40 million to replace lead pipes around the state — in part because they fear too much of the money would go to Milwaukee.
Assembly Speaker Robin Vos and state Rep. John Nygren, co-chairman of the Legislature's Joint Finance Committee instead support other efforts,,, Nygren called for locally-funded efforts..."rather than people from Marinette funding lead replacements in Milwaukee. I'm not sure that that's necessarily fair from a taxpayer standpoint."
G

OP right-wingers, playing to smaller-town constituencies, have long been teeing-up and squeezing and race-baiting Milwaukee; Walker went there openly and enthusiastically in upscale, exurban Oconomowoc Lake
during the recall election
when he urged his partisan crowd to keep Wisconsin from becoming "another Milwaukee."
Yet out-state Republican legislators comfy in their gerrymandered seats are only too happy to pass budgets which collect huge tax payments from Milwaukee for use in their hometowns and districts for DNR programs, classroom support, public health services and state shared revenue.
In Robin Vos' district, state money at least 75 times larger than $40 million is now and for years to come unavailable for use or investment elsewhere because it's reserved by the billions of dollars for Foxconn subsidies and highway expansion.
Here's the complete story of that debacle in one archived post dating to the summer of 2017.
And while Nygren is tut-tutting about that proposed $40 million borrowing to help with just a fraction of the lead pipe replacement cost, his district will enjoy a $31 million state grant the evil Tony Evers has agreed to put in his budget to support a Marinette ship-building program.
And Nygren has bragged about another $11.5 million he's 'won' for his district and region:
"Rep. Nygren has played a pivotal role in helping shepherd crucial investments for the
Northeastern Wisconsin shipbuilding economy, putting Wisconsin on the world stage. In early
2013, a grant of $5 million was awarded to construct the Wisconsin Maritime Center of
Excellence. In 2016, the Center received a $500,000 grant from the Wisconsin Economic
Development Corporation. The Center is a business incubator for the growing shipbuilding
economy. He also played a critical role in securing a $5 million Harbor Assistance Grant for shipyard improvements in December 2018.
"This is not just important to northeastern Wisconsin, but important for Wisconsin as a whole. I would like to thank Governor Evers for recognizing the need to invest in northeastern
Wisconsin's economy...
The same argument can be made about supporting lead drinking water piping replacement in Milwaukee and in any Wisconsin community. It would mean years of contractor work, materials' procurement, and most importantly, generations of healthier, more productive people.
And the rationale for that kind of public investment is no different than the 'good-for-all' argument used to sell the Foxconn project and its massive state subsidies to out-state audiences far from Racine County.
And while Nygren complains about the 'fairness' of funding targeted for Milwaukee, he recently introduced a bill, Assembly 65, to speed up state attention to specific type of chemical pollution caused by a manufacturer close to home:
An Act to create 254.25 of the statutes; Relating to: state health-based groundwater quality standards for certain groundwater contaminants.
This bill requires the Department of Health Services to establish state

health-based groundwater quality standards for perfluorooctanoic acid and

perfluorooctane sulfonate, commonly referred to as PFOA and PFOS,

respectively.
In fact, there's a story about that particular water contamination problem on the front page of the Milwaukee Journal today.
The Department of Natural Resources is increasing surveillance this year in state waterways for so-called "forever chemicals" that are known to pose health hazards to humans...

Some state waters have been tested in the past. Authorities have detected the chemicals in groundwater in Madison near Truax Field and Lake Michigan's Green Bay near Marinette.
And there's a growing awareness - - finally - - about groundwater contamination linked to Concentrated Animal Feeding Operations, or CAFOs, in Wisconsin, and certainly in the northeastern part of the state where Nygren is a key leader.
Would any sane person suggest Wisconsin taxpayers statewide not contribute to manure spill cleanup or drinking water purification programs of any kind in the state?
No - - because we are one state. Wisconsinites travel hither and yon, and have family and friends outside our communities' borders. So why Balkanize spending of public funds on clean water and other basics? Why pit smaller towns and their needs against those in the big cities?
Can't Republican legislators get busy addressing all the water pollution issues which they and Walker deliberately let slide for eight years?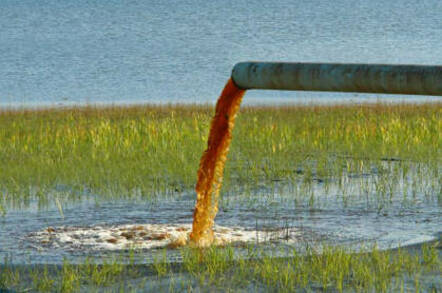 And while they're re-examining their priorities as humans and roles as public servants, Nygren and Vos need to do some cleanup of their hypocrisy overload.
Like contaminated water, it stinks.