Here we go again: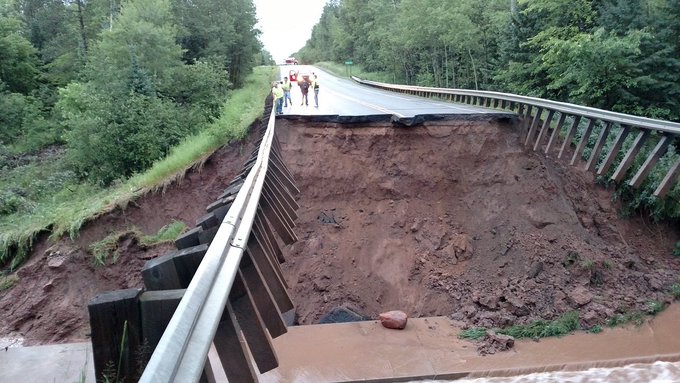 More major flooding in Northwest Wisconsin.
Remember the 2017 storms?
And the 2016 events?
And businesses enabled by Walker and his GOP bellhops hoped to site a 26,000-pig feeding and manure-producing operation and a mountain-top removing, forest-flattening, wetland-filling open-pit iron ore mine at least 4.5 miles long in the area.
Imagine the runoff, as the planet warms and storm intensity increases.
In a state where heavier storm events are predicted to be a climate change consequence.
And where officials have been warned since 2003 that climate change requires infrastructure planning and investments.
And where legislators and Walker just approved removing protections for 100,000 acres of flood-absorbing wetlands.
The state might be less inclined to make such foolish decisions, and the public might be better informed about what's already happening, if the DNR hadn't decided that this was the right time to delete climate change information and links from its climate change webpage.
A highlight of the career of former DNR Secretary and home builder Cathy Stepp, now a Trump/Pruitt-appointed US EPA regional director, during her nearly-seven years bringing to the DNR the "chamber of commerce mentality" Scott Walker wanted atop the agency.