Hurricane Matthew flooded North Carolina's industrial-scale animal feeding operations, and now torrents of dead animals and toxic manure are washing across the state, down rivers, into the water table and eventually to the sea:
Hundreds of hog and poultry farms may have been inundated last week as the Neuse, Lumber and Tar rivers roared over their banks, a rampage powered by the deluge of Hurricane Matthew.
The carcasses of several thousand drowned hogs and several million drowned chickens and turkeys were left behind.
An incalculable amount of animal waste was carried toward the ocean. Along the way, it could be contaminating the groundwater for the many people who rely on wells in this part of the state, as well as threatening the delicate ecosystems of tidal estuaries and bays.
Is Wisconsin, with a warming climate marked by more severe rain events, an exploding number of large-scale animal feeding operations (CAFOs): here is the data from the DNR - -
WPDES CAFO Permits 1985 – July 2014
[PDF]
- - and a state government intentionally easing back on environmental protection and enforcement paying attention to or learning anything from North Carolina's plight?
It was just a few months ago that heavy rains flooded the very area in Northwestern Wisconsin where Iowa hog breeders want to build a 26,000 hog feeding operation, and this is what the region looked like when the rain stopped:
these brief paragraphs towards the end of a news story summarizing the damage and deaths from last week's heavy rains in Northwest Wisconsin - -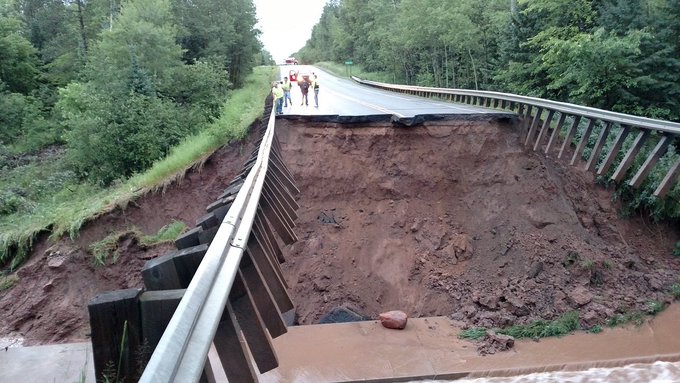 - - underscore the madness of proposing to Scott Walker's "chamber-of-commerce-mentality" Department of Natural Resources the approval for a 26,000-hog feeding and manure storage operation within smelling and polluting distance of Lake Superior, Chequamegon Bay and numerous wells providing drinking water and economic life to the entire Northwoods region:
The Department of Health Services issued a warning on Friday to residents and cleanup crews in the affected area to use extreme caution while assessing damage or removing debris, because of the many health risks.
Flood waters can contain raw sewage, fertilizer, gasoline, pesticides and other harmful substances, so people should not swim, bathe or wade in lakes, streams or any other waters affected by the flooding...
Water wells could also be contaminated, so well owners with flooding near the well should assume the well is contaminated and not use water from it until the floodwaters recede and the well had been disinfected and tested.
How many warnings do we need?
How much faith can we put into Scott Walker's DNR to do the logical, reasonable right thing?
The evidence to date suggests nothing.