During Scott Walker's ignorant and intentional 8-year war on the environment - -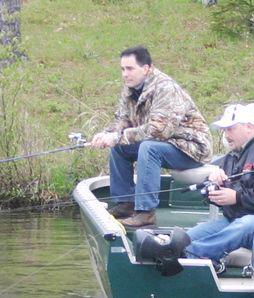 Like that rod and reel, his positions on climate science, clean water and the outdoors were upside down and wrong
- - I tracked, among other things, reports about climate change and stressed fish populations in Wisconsin waters - - here, for example, and earlier, here:
Probably no fish is more dear to the state's recreational economy and thousands of anglers - - "highly prized," says the Wisconsin DNR - - than walleye.
So maybe that same Wisconsin DNR will rethink its decision to scrub climate change from its websites now that climate scientists are saying measures should be taken because climate change will lessen the ability of some state lakes to support walleye:
Nearly 100 lakes in Wisconsin are predicted to support naturally reproducing walleye populations even under extreme warming conditions
These lakes are resilient to climate change, and should be protected from other stressors such as habitat loss, invasive species, or overfishing to maximize the potential for continued walleye production.
Some lakes that are unlikely to support natural walleye reproduction will continue to be suitable for adult walleye, and fishable walleye populations could potentially be maintained in these lakes via stocking.
Quality fishing opportunities for largemouth bass and other warm water species will improve in many lakes that become unsuitable for walleye.
US Fish and Wildlife Service walleye image
And though i
deologically-hidebound and science-debunking Republican budget-drafters
restored only two of 18 DNR science positions
which Walker deleted, a
new report
might get attention at the State Capitol:
A new study by UW-Madison researchers says Wisconsin needs to change its approach to walleye management to halt decades of "hidden overharvest."
A coveted trophy for anglers, a supper club mainstay and a staple of traditional Ojibwe diets, the cool-water fish has suffered a nearly three-decade decline as climate change and development have taken their toll on its habitat.
Since 1990, the walleye population in Wisconsin's ceded territory — roughly the northern third of the state — has fallen by 36 percent, according to data from the state Department of Natural Resources and the Great Lakes Indian Fish and Wildlife Commission.
State Sen. Tom Tiffany has owned up to asking for job cuts to DNR scientists, who he has said focus too much on climate change.
On Friday's Devil's Advocate radio show, the Hazelhurst Republican said he asked Gov. Scott Walker and his staff to include a provision in the state budget axing approximately 17 positions from the Department of Natural Resources' Science Services Bureau.