The bid by a frac sand business to open a large mine in Wisconsin which would necessitate a major wetland filling and pristine timber cut has taken a decidedly uglier turn - - the threat by the owner of the land to clear cut the property for financial reasons if the Wisconsin DNR doesn't grant the mining permit.
We ought to call January "Walker Wetland Filling Month" in Wisconsin, since that's where it all began within hours of Walker taking office:
* As I noted on January 4th, 2011, a day after Walker's swearing in:
Take a look at Item #6 of Walker's Special Session directive to the Legislature in Executive Order #1, as it will impact 1.6 million acres protected of non-federal wetlands, or 30% of the wetlands in Wisconsin...
I also quoted an alert about it issued by the Wisconsin Wetlands Association:
On Day 1 of his administration, Governor Walker released an

Executive Order

that calls for "exemptions from

water quality certification

and wetland mitigation requirements for certain non-federal wetlands that are less than two acres in size" (see item 6 in the Executive Order). In other words, Governor Walker wants to make it easier for developers and industry to destroy isolated wetlands in hopes of creating jobs.
* Later that month, and after administratively blocking an ongoing wetlands filling permit appeal process so he could help a developer/campaign donor build on a wetland near Lambeau Field, Walker had a special bill introduced into the Legislature to further smooth the way for the developer.
Think about how much of the official state machinery was set in motion to benefit one person, a Walker campaign donor.
* The bill quickly passed, followed by Walker signing into law a broader wetland filling bill in front of cheering Realtors a year later, and wouldn't you know it - - in January, 2012 all sorts of insiders were bragging about how they a wetlands' deregulation bill done:
The Wisconsin Builders Association offers itself a pat on the back and a lesson in State Capitol Politics 101 when telling its members how wetlands' deregulation legislation got drafted.
Here is a key paragraph from the WBA newsletter - - remember it when you see the predictable editorials urging its passage after a few tweaks:
The key to this bill passing is to get some minor technical changes in committee and make sure the bill is not "watered down" (no pun intended!) during the process. WBA staff professionals will continue working with members, local staff members and the legislature to pass a strong wetlands bill before the end of the

legislative session...
* Followed by another effort begun in January, 2014 to get another special permission for one Door County development to fill a wetland.
See the pattern yet?
No?
* Followed by Walker's signing an even more permissive law in 2016 to allow development in specialized wetlands previously off-limits to development.
Of course, wetlands are nature's pollution filters and flood water controls - -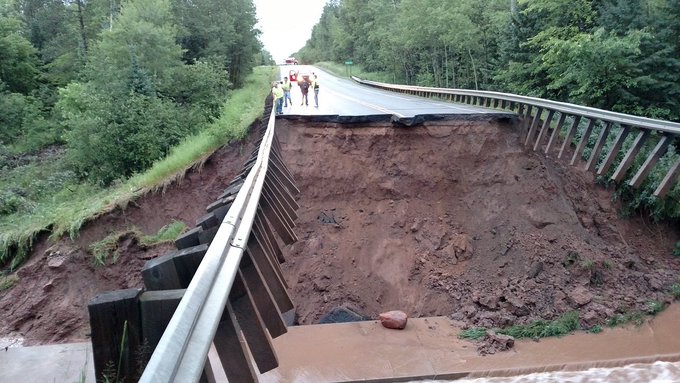 - - issues of little importance to Walker and the "chamber of commerce mentality" mangers he has installed at the DNR which he has been systematically diminishing and downsizing and freeing from science guidance and public policy concerns.
* And, as we speak, this being January - - Walker is considering a budgetary DNR coup de grace to break the agency apart and make it less likely to enforce pollution standards so Walker's corporate donors can have at the people's waters, clean air, state parks and environmental legacy as they wish.
So Happy Wetland Filling Anniversary Month to Walker and his Pollution Party, though we also remember what the Wisconsin Supreme Court had to say - - and which is quoted out on this blog's face page - - about such matters years ago:
"A little fill here and there may seem to be nothing to become excited about. But one fill, though comparatively inconsequential, may lead to another, and another, and before long a great body may be eaten away until it may no longer exist.

Our navigable waters are a precious natural heritage, once gone, they disappear forever,

"

wrote the Wisconsin Supreme Court in its 1960 opinion resolving Hixon v. PSC and buttressing The Public

Trust Doctrine, Article IX of the Wisconsin State Constitution.
Back when the Wisconsin Supreme Court hadn't devolved along with much of the political environment that had first produced John Muir, Aldo Leopold, Gaylord Nelson and Earth Day.