The fates of clean water, valuable wetlands which filter them and citizen-led environmental protection in Wisconsin are in the hands of the State Senate Natural Resources committee.
Raise the alarm: the matter cannot be overstated.
That's because the Committee, with a GOP majority, may vote on an ultra-special-interest amendment which was adopted as the Assembly adjourned last week written to enable rare wetland filling for a sand mine operation despite the fact that the project is being contested right now by Midwest Environmental Advocates, Clean Wisconsin and citizens in a Monroe County judicial hearing.
Somewhat like finding out that were you a defendant in a legal case that just as it was going to the jury, some 'lawmakers' somewhere passed a law that said even if you win the case it doesn't matter.
Like the way the old Politburo used to run things in the Soviet Union.
Your rights? What rights?
There is fresh reporting that Committee chairman Robert Cowles, perhaps the last environmentally-attuned GOP Senator left in that body, says he will not allow the bill to proceed, but he tempered his position with this reality-check, according to the AP:
While state Sen. Rob Cowles said it wasn't his plan to consider it, "there's always forces above us that can override this guy."
And as the AP notes:
The bill before the Senate committee does not yet include the provision meant to benefit Meteor Timber. Even if Cowles doesn't pass it, the full state Senate could decide to take up the Assembly version of the bill when it meets on its last planned session day March 20.
Here how to find the committee and its members: Contact them, thank Sen. Cowles for his pledge and tell the Senators to kill the amendment.
Senator Cowles (Chair), Senator Petrowski (Vice-Chair), Senator Olsen, Senator Miller, Senator Hansen
And find your State Senator, here, or through the Legislative Hotline at 1-800-362-9472 let her or him know that they should not support the amendment if it gets to their desks.
There's no way to soft-pedal what is just the latest, and maybe final outrage in the intentional, money-driven partisan nullification of Wisconsin environmental history, priorities, protections, standards at the expense of citizens' rights and environmental rationality which has been going on since the early hours of Scott Walker's more than seven-year reign.
A reign he opened with the unilateral suspension of a legally-established, routine review of a wetland-filling permit for a project near Lambeau Field proposed by one of his campaign donors.
It was an imperious, unambiguous warning shot for all to see across the political environment which the Legislature dutifully affirmed.
The Walker/GOP/Legislative/big business war on the environment has been waged unabated through his installation of senior pro-business officials atop the Department of Natural Resources with the "chamber of commerce mentality" Walker said he wanted there - - and, again, he did it for all to see, which is why the DNR, continually stripped of staff, funding and mission now better resembles a state Department of Commerce than the science-based, public health and environmental protection agency it had always been.
And is run now by an actual, retired chamber of commerce executive than the chamber-of-commerce obedient Cathy Stepp, she having recently moved to work her builders' will on Trump's version of the US EPA great lakes regional office in Chicago.
And Walker's redefinition of state government as an arm of business will accelerate later this year when Walker moves the weakened DNR's inspection and permitting-reviews for the state's expanding heavily-polluting large dairy cattle feeding operations from the DNR he has systematically savaged to the Wisconsin Department of Agriculture, Trade and Consumer Protection which through multiple marketing activities including the World Dairy Expo in Madison drives Wisconsin milk, cheese and dairy sales production worldwide.
And maybe it's more accurate that the tipping point for clean, green, publicly-focused environmental policies in Wisconsin was already passed when Walker and the Legislature gave Foxconn the right to fill wetlands, reroute waterways and build on lake beds without even as much as environmental studies on the company's 3,000 acre site and routine permit applications which should have been routinely required.
Because wetlands absorb flood waters that can end up in your basement, and drain to waterways which the Wisconsin Constitution says belong to everyone - - though the Walker/Legislative/special interest war waged what is known as the Public Trust Doctrine it is obviously winning.
Little wonder that in the wake of those favors for Foxconn, the Legislature lifted the ban on toxifying metal mining in Wisconsin, and removed state protections for roughly 100,000 acres of wetlands statewide.
So we can expect a steady flow of special bills, permissions and other exemptions so businesses can fill, pave over, cut down or other wise pollute the land - - a flow as predictable and harmful as the increased flow of pollutants into Wisconsin rivers and streams documented by the DNR and archived with the EPA - -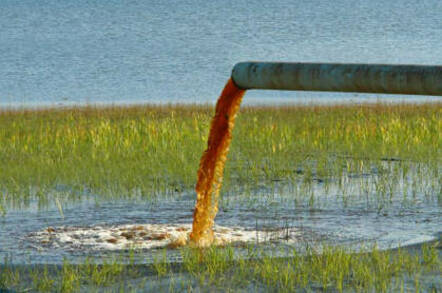 - - but only because it's
required by a portion of the federal Clean Water Act not yet obliterated by Trump on behalf of coal mining, uranium mining companies, big western cattle ranchers and timber businesses.
So there is a lot on the line come next Wednesday when the State Senate Natural Resources meets in Madison.
If the bills amendment dies there, there is still a chance that special interests cannot get anything they want from from compliant legislators and the Governor they blindly serve.
If the bill is voted out of committee, it means that State Senate GOP Sen. Majority Leader Scott Fitzgerald knows he has the votes to send it to Walker for a signature.
Which will firmly establish the precedent that even where permitting is required to fill a wetland in Wisconsin, the Legislature can simply reify its contaminated version of a Wisconsin Idea by passing a special bill to tear up that permit and send in the bulldozers.