[Updated from 1/15/18] Walker says he's taking Wisconsin in the right direction, but if that leads to state waters, don't smell, drink or fish it, his own data show.
You might urge media and others to remind Walker of the increasing waterway pollution across Wisconsin on his watch documented in the posting that follows, and also that he's
said
here
and
here
and elsewhere
that he always leaves the environment cleaner than he found it.
And mentally underline "phosphorous" as you focus
on just two facts gathered from the links that follow:

* There has been a doubling under Walker of the number of polluted waterways in the state since his 2011 swearing-in.


* And there have been more than eight times as many waterways - - 804 - - newly added to the official polluted lists - - government likes the sanitized label "impaired" - - than the 96 waterways improved enough to be removed from the lists.
Grasping that is part of the battle to keep up with all the cuts and their implications by Walker, the GOP Legislature and compliant Wisconsin Department of Natural Resources big business obeisant management to the agency's mission, staffing, budgets, and science that are designed to reward polluters and more easily degrade the state's environmental legacy and obligations.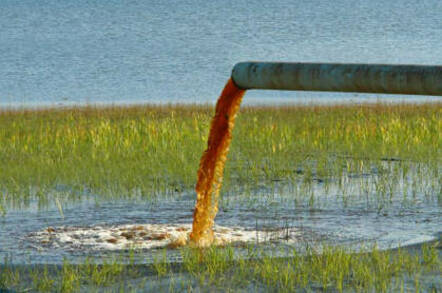 "This partnership will allow Wisconsin's leadership in clean water and energy to reach new heights," said Governor Scott Walker.
- -
even though he is undermined on water quality leadership from border to border back home by information posted by his own administration that shows he is not leaving the water cleaner than he found it.
Read through the links and data bases in the information below - - and, remember, the numbers are Walker's and are on his administration's web pages (until they go the way of the DNR's scrubbed climate science page, perhaps).
So when Walker comes to your town for your vote, and you see your lake, or river and stream segments on his lists, ask him why.
And why the summary numbers are diving in the wrong direction statewide.
And what he's done lately to make your waters more drinkable, fishable, swimmable, and boatable.
After all, w
ho gets a contract extension, in baseball or politics, if you're batting .125?
Every two years, Section 303(d) of the Clean Water Act requires states to publish a list of all waters that are not meeting water quality standards. The existing Impaired Waters List includes more than 700 rivers, streams and lakes. In the 2012 list, updates include 147 new waters to the list. Twenty-eight waters were delisted, including three streams that have been successfully restored:

German Valley Branch

in Dane County and

Eagle and Joos Valley Creeks

in Buffalo County.
In the 2014 list update, DNR added 192 new waters. A majority of the listing additions were waters that exceed total phosphorus criteria. A significant number of new listings were also based on poor biological condition. Read more about specific restorations and/or search and learn about Wisconsin's impaired waters with the

Impaired Waters Search Tool

. [

How to use the Search Tool

]
I

n the proposed 2016 list update, DNR proposes to add 225 new waters. A majority of the listing additions were waters that exceed total phosphorus criteria. A significant number of new listings were also based on poor biological condition. Ten waterbodies are proposed to be delisted.
In the proposed 2018 list update, DNR proposes to add 240 new water segments. A majority of the listing additions were waters that exceed total phosphorus criteria. Thirty-five waterbodies are proposed to be delisted.
So allowing for some portion of the total to have taken place in one year of the Doyle era, and also allowing for some late changes, the cumulative numbers in these reports which encompass most of Walker's tenure show the addition of 804 newly listed polluted waterways to the "more than 700" cited in 2012.
The additions, 804, outpaced deletions, 96, by a ratio of more than eight-to-one, and leaves Walker with about double what he inherited.
Impaired waters in Wisconsin are affected by a variety of pollutants. The top three are: mercury, total phosphorus and sediment...
Note that mercury contamination is clustered heavily in 146 Northern Wisconsin waterways that are under consumption restrictions.
While natural erosion produces nearly 30 percent of the total sediment in the United States, erosion from human use of land accounts for the remaining 70 percent. In agricultural watersheds, the most significant source of sediment is tilled fields....Improperly managed construction sites also contribute significant amounts of sediment to local waterways; up to 25 times that of agricultural lands (Chesters, 1979) and 2,000 times that of forested lands (

EPA 833–F–00–008, R 12/2005

[PDF exit DNR]

)...
Phosphorus has long been recognized as the controlling factor in plant and algae growth in Wisconsin lakes and streams. Small increases in phosphorus can fuel substantial increases in aquatic plant and algae growth, which in turn can reduce recreational use, property values and public health.
Many lakes and streams are listed as impaired due to phosphorus pollution or sediment, decreasing their recreational value and economic impact.

Dozens of waters statewide experience harmful algal blooms fueled by the nutrient and last year, 35 people in Wisconsin reported human health concerns and the death of at least two dogs due to blue–green algae.

Smelly cladophora fueled by phosphorus washes ashore Lake Michigan beaches.

Recent statewide stream assessment data suggests that thousands of streams may have excess phosphorus levels. In addition to decreasing the dissolved oxygen that fish and other aquatic creatures need to survive, such excess phosphorus causes major changes in lake and stream food webs, which ultimately result in fewer fish and fish predators.