The Governor of the state that gave the world Earth Day founder Gaylord Nelson gave a State of the State speech Wednesday with zero environmental content.



GOP Wisconsin Governor Scott Walker managed that feat yesterday; this post closes out a two-part series on the speech that I began Thursday,

here.
Let's posit that Walker has wracked up quite the negative environmental record over the last seven+ years - - including pro-polluter legislation, weakened Big Ag inspections, a trashed DNR staff, deleted science and slashed budgets, along with the official addition of 800 more contaminated state waterways and with new sulfide mining and wetlands fillings on the horizon.
But let's also credit Walker with a relationship with the environment - - though its more the connection of a wide-eyed tourist passing through Wisconsin than that if the duty-bound lead steward obliged to protect the people's land, clean air and water.
So let's flesh out that odd-ball disregard - - not with Walker's words, or lack of them in the Wednesday speech - - but just one of

the many photos of Lake Mendota taken from the Governor's Mansion that Walker is fond of posting on his Twitter feed.
Because it's on Twitter where Walker inadvertently discloses the gap he lives in and from which he governs between an iPhone's momentary environmental appreciation and Chief Executive-level environmental commitment in the state that gave us not only Gaylord Nelson but John Muir and Aldo Leopold, too.
Beautiful sunset.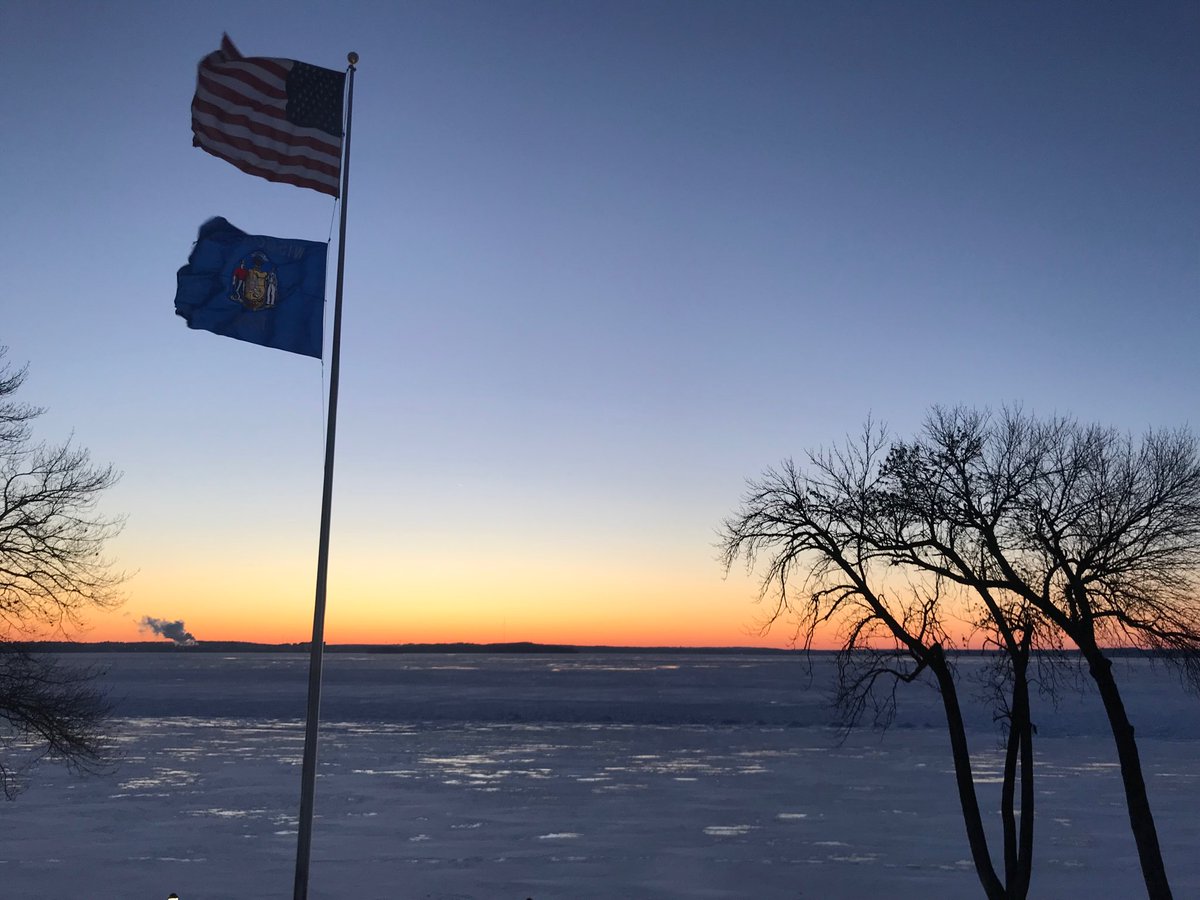 That's the UW-Madison campus across the lake, to the west.
Predicted water temperature growing degree days in three example Wisconsin lakes from current conditions to mid-century and late-century conditions based on projected climate change. Lakes will respond differently to climate change depending on their size, depth, water clarity, and starting temperatures, as demonstrated by the different trajectories of Lake Mendota, Green Lake, and Trout Lake.
And it was on the Limnology school's blog just over a year ago that UW professors blasted Walker's DNR for having scrubbed ciimate change data and science - - facts impacting Lake Mendota and other bodies of water in Wisconsin which Walker does not see or appreciate - - from official state websites:
* Warmer conditions, especially in winter, are dramatically reducing the duration of ice cover, giving ice fishers less time to fish.
* Deer hunters are finding less snow on the ground during the gun season.
* Many brook trout streams are threatened by a warming climate.
* In lakes, dominance by the coolwater walleye is shifting to dominance by the warmwater largemouth bass.
* Several popular game species, like the ruffed grouse, are shifting their ranges northward and becoming less abundant.
* Increases in extreme rain events are increasing runoff from farm fields into downstream waterways and lakes, reducing water quality.
* High temperatures worsen health-damaging smog (ozone). The hot summer of 2012 produced very high ozone levels, worsening asthma and harming crops.
* Some key forest trees are declining in a warming Wisconsin, and the season for timber harvesting is getting shorter.
* Several tree species are threatened as warming allows more pest insects and diseases to move north.
Little wonder that the Lake Mendot
a in Walker's pretty picture but not deeply seen or appreciated by our Governor
produces reports like this
:
Climate Change and Lake Mendota
Late Mendota's water quality, the abundance and extinction of fish species and less time of having a frozen lake are also at the mercy of climate change. These factors directly affect how Madison residents and visitors interact with and perceive the lake. From not being able to skate on the ice in the winter to swimming in a pile of green in the summer, the effects of climate change and global warming are becoming more and more visible in our lifetime...
Wisconsin, specifically, has become much warmer over the past 60 years according to data from the Wisconsin Initiative on Climate Change Impacts. These warmer temperatures contribute to Lake Mendota's warmer surface water.
Every time Walker posts one of his Lake Mendota photos, he's reminding people of how distant he and his administration are from the lake whose waters lap at the edge of his taxpayer-paid grounds.
Waters that are being influenced by the climate change he's denied, and which are connected to one of the state's important watersheds that is among so many his environmental disregard has damaged.
Which explains why he left the whole matter out of his State of the State speech, but which is visible in plain sight across Wisconsin from border-to-border.