Key points by the WI DNR under Gov. Evers' direction on Friday to recent Federal and WI State Legislative 'responses' to lead contamination in our drinking water:
* Takeaway #1:
MADISON, Wis. - The U.S. Environmental Protection Agency (EPA) this week announced a

proposal

to address how communities across the country can reduce lead in public drinking water. EPA Administrator Andrew Wheeler revealed the proposal at events in Green Bay on Thursday and Milwaukee on Friday....

Although the EPA has set a maximum contaminant level goal for lead of zero, unfortunately, the proposed rule revision did not call for mandatory replacement of lead service lines....
While staff at the Department of Natural Resources review the 347-page proposed rule, the DNR initially concludes that the draft rule revisions do not adequately address full lead service line replacement, which the department recommends as the best way to reduce exposure to lead from drinking water.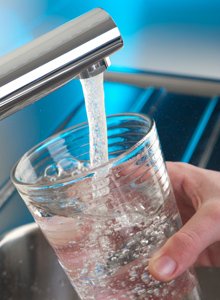 EPA photo
Takeaway #2:
To

help expedite lead service line replacement, Governor Evers proposed $40 million in bonding for the budget that would provide critical state cost-sharing to local water utilities that do not have the resources to replace the lines on their own. The state legislature removed the $40 million from the budget.
In other words, the Republicans' solution to lead in the drinking water is weak 'regulation' - - and what else would you expect from the anti-EPA administrator and former coal lobbyist Wheeler, and 'policy' as the manure keeps flowing from the special-interests-and donors-controlled, anti-Milwaukee GOP-run WI Legislature?
For Milwaukee, Vos says 'no.' With attitude.
[About] repairs to lead-laden drinking water piping, where data show the need is greatest in Milwaukee, the city on which Vos recently heaped some Tweet-shaming: Speaker Robin Vos Retweeted May 20



Assembly Speaker Robin Vos applauds the City of Madison for replacing all privately owned lead lateral pipes on its own, and wonders why City of Milwaukee needs a handout from state taxpayers to do the same.