Many Walker actions which have obstructed climate change science and clean energy development now have less support from Republicans nationwide, new polling data finds.
Could be that common sense pocket book and health concerns - - plus images of heat-driven wild fires, stronger storms of all kinds and flooding even in Wisconsin - -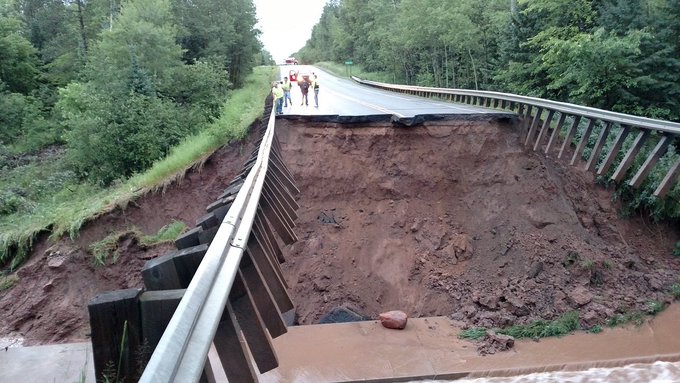 could make it easier to retire our environmental outlier Governor in six months.
The pro-industry Walker, his appointees and key ally GOP Attorney General Brad Schimel have routinely stalled wind farm and solar energy development, ignored climate change, scrubbed climate
information and science
from official websites and
quickly approved, over strong objections, four heavily-polluting air permits to the Foxconn project
.
And persuaded Trump's pro-polluter EPA to exempt SE Wisconsin from stronger cleaner rules, thus paving the way for Foxconn while keeping Milwaukee, Racine and other DE WI counties in air tht will exacerbate asthma, COPD and other cardiovascular-vascualar diseases.
But a growing number of Republicans - - along with even greater numbers of Democrats - - are concerned about climate change and clean power and want government to act affirmatively to address them,
according to a new report released by the authoritative Yale Program for Climate Change Communications.
I urge your to read the full report and subscribe to the Program's email alerts and reports, so here is a key section of the information just released.
Among Republican registered voters, belief that global warming is happening has increased 4 percentage points, while belief that it is mostly human-caused has increased 9 percentage points since the Fall of 2017. Republicans are also more worried about global warming than they were in the Fall (+5 points).
It appears that the "Trump Effect" – in which Republican opinions on climate change declined after the 2016 election – has bottomed out. Republican opinions have rebounded – in some cases to new record highs. Republican support for strict carbon dioxide limits on existing coal-fired power plants increased 9 points and support for requiring fossil fuel companies to pay a revenue-neutral carbon tax rose 7 points since Fall 2017.
More broadly, public support for a variety of climate and clean energy policies remains strong and bipartisan. Large majorities of registered voters support:
Funding more research on renewable energy (87% support), including 94% of Democrats, 83% of Independents, and 79% of Republicans.

Generating renewable energy on public land (86% support), including 91% of Democrats, 82% of Independents, and 81% of Republicans.

Providing tax rebates to people who purchase energy-efficient vehicles or solar panels (85% support), including 91% of Democrats, 82% of Independents, and 77% of Republicans (+6 points since Fall 2017).

Regulating carbon dioxide as a pollutant (81% support), including 91% of Democrats, 80% of Independents, and 69% of Republicans (+8 points since Fall 2017).