State Rep. Jonathan Brostoff, (D-Milwaukee), does a good job in an op-ed for Urban Milwaukee noting the widespread opposition against the unprecedented, coordinated and self-interested push by GOP legislators and well-funded special interests to remove protections for a million acres or more of Wisconsin wetlands.
In fact, this legislative effort comes with such a high ecological risk that many environmental groups are lobbying against it, including:

Clean Wisconsin

,

Midwest Environmental Advocates

, the Nature Conservancy-Wisconsin Chapter,

River Alliance of Wisconsin

, Wisconsin Association of Lakes Inc., Wisconsin Land and Water Conservation Association Inc.,

Wisconsin League of Conservation Voters

, Wisconsin Wetlands Assoc., the Wisconsin Conservation Congress and Gathering Waters.
Because they are a valuable habitat for plants and animals, wetlands are also prime grounds for Wisconsin's hunters and fishers. As a result, there is widespread opposition to this bill from the sporting community: Ducks Unlimited, Trout Unlimited, Pheasants Forever, Wisconsin Waterfowl Association, Wisconsin Trappers Association, Wisconsin Wildlife Association, and the National Wild Turkey

Federation.
A legislative hearing on the bill begins at 11 a.m. today as year-end holidays tamp down attendance and visibility, and as with so many environmental matters in Wisconsin these days, the outcome may have already been decided behind closed doors with GOP, one-party rule locking down decision-making across all three branches of government.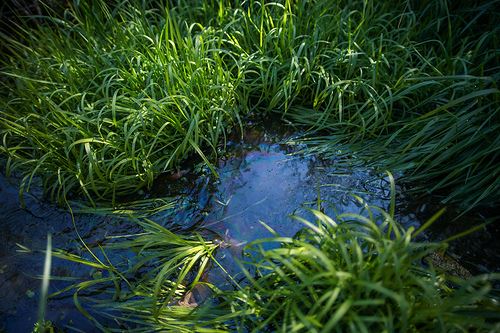 Case in point: The DNR gave preliminary approval to the Kohler golf course proposal and its wetlands fillings on a bluff above Lake Michigan, and announced the finding on the eve of a public hearing to get public input into the permit application.
And Kohler interests had already secured the help of Walker's Department of Administration to speed through a quick annexation of the golf course property to the development-friendly City Sheboygan and away from the smaller, conservation-minded Town of Wilson.
And remember that the US Supreme Court may next year find that Wisconsin's current, GOP-dominated State Legislature is unconstitutionally gerrymandered, and if new district maps are drawn and fresh, fair elections are ordered, you could be looking at this wetlands grab and related privatization of groundwater by major dairy-donors, and the precedent-setting giveaway of state legal and waters to the Foxconn project as the last hurrah of the Walker era's intentional disregard of state constitutional public water rights.
Wisconsin's Waters Belong to Everyone
Or, the wetlands grab will pass, and stand as another dagger in the fast-disappearing Wisconsin environment, and the state's clean water legacy.
I've been raising the alarm about these GOP-led depredations against wetlands, groundwater and the wider environment, noting in particular the unbelievably short-sighted scheme on which Brostoff is focusing to turn over a million acres of irreplaceable Wisconsin wetlands to right-wing political control and private-sector 'development.'
* More recently, Republican legislators proposed a sweeping removal of regulatory protections that would reduce air quality and put a million acres of state wetlands at risk for filling.
* And they'll have a new front group to lend a hand, notes the Wisconsin Democracy Campaign:
A new group that says it supports policies to protect the state's waters appears to be a front group with ties to powerful business, agriculture and manufacturing interests.
The Wisconsin Water Alliance, which describes itself as a diverse group of state businesses and landowners, announced its formation on Tuesday.
The alliance says water is a "vital natural resource" that must be protected for "current and future generations of families, cities, businesses, and others..."
* This time, it's

Senate Bill 387, as amended

by GOP State Sen. Tom Tiffany, (R-Hazelhurst).
He's the Wisconsin legislature's leading special-interest-water carrier-on-water - - then, on behalf of a failed open-pit iron mine that would have blown apart the Bad River watershed, for example, and more recently to bring back more mining which discharges acidic waste.
Are you surprised that the mining efforts also have the aid of a new business front group?
The

Natural Resource Development Association

said in a statement that changes in current mining laws "can create a new generation of mining jobs that will help employ thousands of people across Wisconsin through not only mining, but other industries that contribute to mining operations, like construction."
Nathan Conrad, executive director of the group, is a former spokesman for the Republican Party of Wisconsin. He declined, for now, to say who is behind the effort or providing financial support.
Which bring us to SB 387, and Tiffany's new attack for special interests on the state constitution's Public Trust ('the water belongs to everyone') Doctrine...
Remember the State Supreme Court's warning that is out on this blog's front page about fillings here and there...
"A little fill here and there may seem to be nothing to become excited about. But one fill, though comparatively inconsequential, may lead to another, and another, and before long a great body may be eaten away until it may no longer exist. Our navigable waters are a precious natural heritage, once gone, they disappear forever,"

wrote the Wisconsin Supreme Court in its 1960 opinion resolving Hixon v. PSC and buttressing The Public

Trust Doctrine, Article IX of the Wisconsin State Constitution.