I'll track whatever once-a-year political pieties get posted on Martin Luther King Jr Day from the same WI GOP rightwing pols who used state power to undermine Dr. King's life's work - - voting rights, living wages for low-income workers for which he was organizing in Memphis when assassinated, and a more fair, just and inclusive America.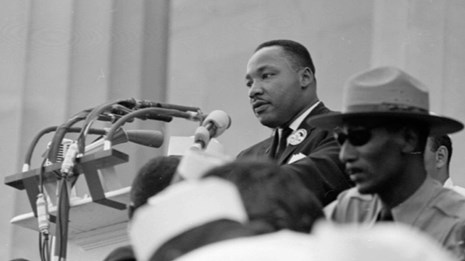 For example, I see that Walker
took a a few seconds on Twitter to paste in a King quote - -
"We must learn to live together as brothers or we will perish together as fools."
The Internet helps those who cannot think for themselves or write from the heart.
I'd say Walker put more time into finding this selfie with Nikki Haley and posting it on her special day.
Happy Birthday to my friend
!
On the matter of voting rights, the suppressionist Badger State trio of Walker, Fitzgerald and Vos were all architects of restrictive voter ID laws, illegal barriers to early voting, and gerrymandering's deliberate dilution of fair representation.
100% diametrically opposed to everything which defined Dr. King.
These same GOP opponents of unfettered ballot box access are also responsible for keeping the minimum wage in Wisconsin frozen for years at the rock bottom rate of $7.25 an hour.
Remember when Walker said during his failed 77-day run for President that the whole concept of a minimum wage was "lame."
Not sure how that belief, or the GOP legislators refusing to release homeless assistance during a brutally cold winter does anything about 'living together as brothers or perishing together as fools.'
Well, except for that perishing part.
So far, scanning Twitter, I see nothing about Dr. King or the meaning of the holiday today from Vos for Fitzgerald; maybe they'll get to it, or maybe they know they shouldn't even try to fake it.
A special shoutout goes to Glenn Grothman, who opposed designating Martin Luther King Jr.'s birthday as a holiday because, as he said, "let's be honest" - - no one really does anything to honor King on his birthday because they've gone "shopping at the mall" or are on "an extended vacation."
For those quotes, and more, watch a four minute montage of Grothman's clips courtesy of HBO's John Oliver, here.
For the record, I see nothing on the matter at hand today on Twitter from Grothman. This is his latest tweet, which has all of two retweets and 10 likes.
Go Pack Go! Can't wait to watch the soon-to-be NFC champions march to victory today and head back where we belong… the Super Bowl.
#Packers
#Titletown